FE Robinson – Prolific, visionary bellringer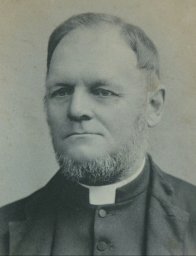 100 years ago this week, Rev FE Robinson was buried in All Saints Wokingham churchyard.
He was a leading bellringer in his day, as a reformer, an organiser and a performer.
His funeral was a major event, and its centenary will be marked by bellringers in Wokingham, throughout the Oxford Diocese and in other parts of the world.
Francis Edward Robinson was born in Begbroke, Oxfordshire on 6th January 1833, the son of a clergyman. After Winchester and Oxford, he worked at the Old Bank in Oxford, but in 1868 was called to the priesthood. For thirty years he was vicar of Drayton, Oxfordshire, until serious illness persuaded him to retire. He moved to Wokingham in 1908, made a spectacular recovery, and became as active as he ever was, but two years later he suddenly died.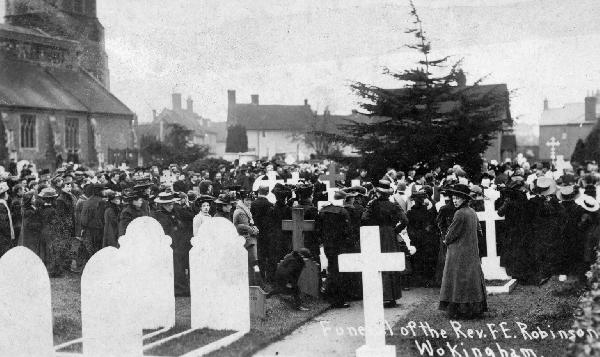 Robinson was above all an extremely capable and prolific ringer. He was the first person ever to ring 1000 peals. Most peals take about 3 hours to ring, but he also rang in several record peals, the longest of which took 9¼ hours. He was the founder of the Oxford Diocesan Guild of Church Bell Ringers in 1881, and served as its master from then until his death in 1910. The Oxford Guild is now the largest ringing society in the world, with over 2200 members. His talents weren't limited to ringing and organisation – he was also a proficient wood carver. While at Drayton, he carved the organ case, choir stalls and bench ends, and he was part way through carving a chancel screen when he died.
Several hundred people attended his funeral on 19th February 1910, as this contemporary picture shows. There were people from the town, and bellringers from far and wide. This week, many peals will be rung to mark the centenary of this great man's passing, including one on Saturday morning at All Saints. The method (tune) for the peal will be Stedman Triples, which was Robinson's favourite.

A near miss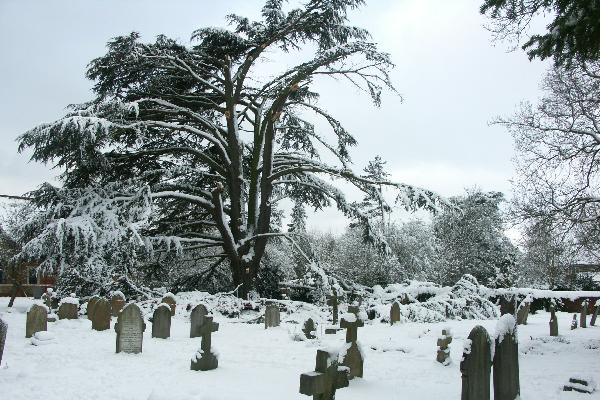 Robinson was buried close to what was then a relatively young Cedar tree. A century later it has grown to a massive size, and dominates the churchyard at All Saints Wokingham, completely overshadowing the graves next to it. FE Robinson's grave recently had a narrow escape when heavy snow brought down many large branches from the Cedar tree.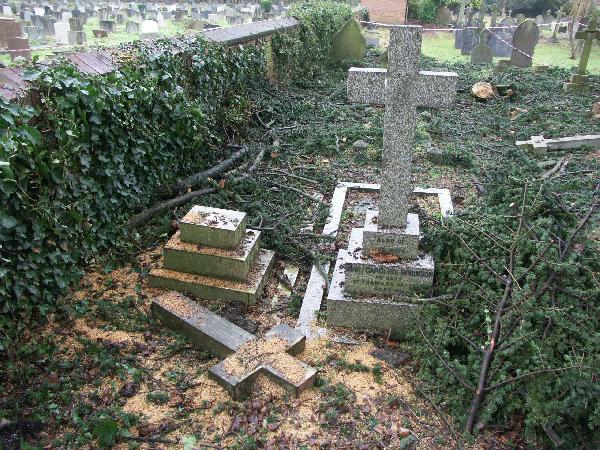 One massive branch, about 10" thick, fell on top of the two graves where Robinson and several of his family are buried. The impact snapped off the stone cross of the adjacent grave, but just missed Robinson's own grave.

John Harrison
Published in The Wokingham Times – In Focus: 17th February 2010