The Tower Handbook
---
11.5: Teaching speed control
Making accurate adjustments to the speed the bells swing is the key to full circle ringing, especially change ringing, but it is not always given enough emphasis. In this section we combine advice for developing rudimentary speed control during bell handling lessons, with the teaching hunting that is normally done much later. This is to emphasise the continuity of the concepts and practice of speed control that should run through a ringer's early training.
a: Why do we need to teach speed control?
Speed control is fundamental to ringing. To ring rounds properly each ringer must be able to make tiny changes in speed to match the bell's timing accurately to that of the other bells. To ring changes properly you must alter the bell's speed, blow to blow, by the correct amount to change place. All this depends on having full mastery of the bell, ie the ability to sense what it is doing and control it to achieve the required rhythm.
b: When should we teach learners about speed control?
As soon as they can handle safely. Speed control is important so encourage your trainees to develop a feel for the speed and how to control it as soon as possible. Extended practice without any attention to speed can encourage a drifting style where the bell rings the ringer and not vice versa. He or she should be encouraged to ring at a constant speed and at different speeds, and you should comment on deviations from whatever speed is being rung (eg letting the handstroke go over way too far before realising what is happening).
This practice increases confidence in controlling the bell at different levels, not just the easy condition when it is swinging well over the balance. Competence at raising and lowering greatly helps speed control.
c: What should we teach learners about speed control?
This depends on how far they have progressed. In the early stages speed will be erratic as they learn to control the bell. As well as keeping the bell up without banging the stay, make sure they aim for (and eventually achieve) good speed control. This is like learning to cycle in straight lines, without falling off. Introduce speed changes while teaching bell handling: ring steadily at different speeds on demand, ring hand and backstrokes at different speeds, ring to a fixed beat. Use a simulator or metronome, or beat orchestral style. (A simulator is the best method once the trainee has developed rudimentary control, since it is nearest to real ringing and encourages the trainee to use hearing to control speed.) Emphasise speed changes when you teach dodging and hunting.
d: When should we teach learners to dodge?
As soon as they can confidently ring at different speeds. It will help develop the ability to change speed rapidly and reliably. It will also help counter the imbalance between handstroke and backstroke that some learners develop. If they can dodge, they will be able to respond to requests to open or close handstroke versus backstroke.
Dodging can be taught initially on a solo bell, and then with one other. At this early stage the 'correct' interval is not important. The focus is purely on being able to ring repeatedly under and then over another bell on consecutive strokes, without losing control or using so much energy that the task becomes impossible to sustain. Later, usually after ringing with others in rounds, the actual interval also becomes important, as does the ability to keep in the right place while dodging and not drift too wide or too close overall.
e: What is the best way to teach hunting?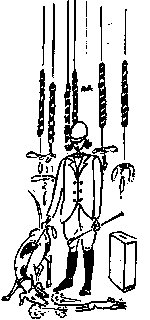 There is no one right answer, but you should get better results if you build up the necessary skills progressively. Like dodging, it is best to lay the foundations before your pupil starts to ring with other ringers (which is why the topic is included in this section).
Introduce the plain hunt rhythm [132] as an extension of teaching speed control. If your trainee is familiar with ringing this rhythm, then real hunting with other bells will be much easier.
Hunting needs a combination of bell control, place awareness, rhythm, ropesight, and listening. You can start to develop the first three of these skills before you introduce ringing with other ringers.
Bell control will be more severely tested by hunting than rounds. Make sure your trainee is aware of the impact of rope length (it needs to be shorter to ring fast when hunting down and longer to ring slow when hunting up [133]). Make sure he or she is capable of adjusting it when needed.
Place counting is essential to know when to change speed. If you are teaching the hunting rhythm without other bells involved, then there is no conflict between place numbers and bell numbers (see section 11.9d). Encourage the trainee to count places out loud and to say when changing between quick, normal and slow speeds. That way you will be able to tell whether problems are caused by trying to do the wrong thing or just not doing the right thing well enough.
Emphasise the need for steady, predictable ringing. Make sure the speed changes are anticipated soon enough to 'turn the bell round the corner'.
e to hunting with other ringers, you need to think about the other two factors as well.
Ropesight (see section 11.9) is important for seeing one's way round, but remember it is far easier to see which bell to follow when you are more or less in the right place, ie ropesight is a poor substitute for getting the speed control right. Place the trainee on a bell where the ropesight will be fairly easy (see section 11.9e) and encourage him or her to keep all the ropes in view, not just to look at individual ones.
Encourage listening from the start. Your trainee should already have developed the ability to listen as an aid to striking when ringing rounds and call changes, so build on this. A reasonable initial target is to be able to hear whether there is a crunch or a great big gap near where his or her bell is striking. At first there is a lot else to think about and listening will be quite difficult, but do not let your trainee slide into the habit of not listening at all. As confidence grows with moving the bell around, so more effort can be devoted to listening while hunting.
f: What is the best number of bells to teach hunting?
There are two sorts of difficulty.
The change in speed necessary to hunt up or down is far greater on smaller numbers of bells, so hunting on four needs a lot more effort than hunting on eight of the same weight.
The complexity of ropesight and listening increases with a larger number of bells, and the precision needed to stay in the right order increases as the bells must strike closer together.
On balance, a small number of bells is better because it simplifies the complexity. Although the increased physical effort may make the initial stages harder, this can be turned into an advantage, since it enforces the need to make conscious speed changes, rather than just look for the next bell and follow it.
You can introduce complexity gradually by hunting on progressively more bells. As an alternative, some people use methods where the treble only goes part way to the back. In Bastow it goes to 2nds, in St Helens ;(Cloister) to 3rds and in Little Bob to 4ths. Ringing Bastow Minor on the treble for example, the rhythm is of six bells (so it needs less effort), the place counting is minimal (1 ' 2 ' 2 ' 1), and the ropesight is intermediate (all bells are involved, but only one at once under the treble). Of course to do this, the rest of your band must be able to ring Bastow, etc reliably. There is no point ringing a special method to 'help' the Treble then making it harder because of mistakes.
g: Should we vary the order of the other bells?
Yes, but at the right time. Whether they learn the numbers or not, novices become familiar with the visual sequence in which they meet the bells when hunting (from the same bell). This makes things simpler while they get the speed changes sorted out, but left too long it will undermine their need for ropesight and limit what they can ring. Warn your trainee that the order will change during the touch, and then swap a pair of bells over when the ringing has settled. Quietly swap a coursing pair when they are at the back (or any other pair so long as you agree how to indicate to the ringers concerned when to do it). Let the ringing settle again before changing another pair. If your trainee is completely thrown by this, then stop and explain.
You can achieve a similar effect by moving the trainee on to ringing the treble to a method. This is fine if it works, but because the order changes all the time, it is a bigger step to take. With individual swaps you can control the difficulty, depending on progress.
---
---
Currently hosted on jaharrison.me.uk